'YABANJI' is a Turkish word. It means 'Stranger/Foreigner/Outsider'. Me.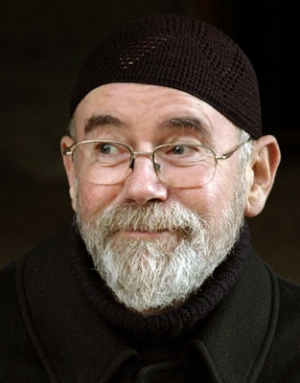 In 1976 I played Blake Maine, medical orderly, in this episode of SPACE 1999, entitled 'DEVIL'S MOON'. I get killed off after exactly 10 minutes.
In late October 2013, after living and working as an English teacher in Istanbul for 27 years, I was kicked out of Turkey. Here's a video interview of me in Barcelona

explaining the story-
Now, after a brief visit to Tangier, I'm back in England - broke and homeless.
I'm currently living in a cardboard box in Camden Town.
LATEST NEWS 12/01/14 - Out of my box and living in a squat in Kentish Town. Playing the role of Dick Cheney in the play 'We, Macbeth' at London's Theatro Technis (see latest COUNTERPUNCH article)
This site was begun in 2001 to exhibit my collages, made with scissors, paper and gum, which you can see by choosing from the galleries at the top of the page. It's a free website with limited space, so many old collages have been deleted.
CLICK PICTURES FOR LINKS.
LATEST COLLAGE:
CLICK

HERE

TO SEE MY ROOM IN ISTANBUL.
SOME OLD PAGES FROM MY BANNED WEBSITE 'CARNIVAL OF CHAOS' 2002 - 2005
Some old picture and news about me at STUCKISM
FRIENDS